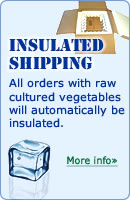 Caraway Pizza Cracker recipe
NOTE
For best results refrigerate upon receipt and open jar(s) only after these fresh, live, raw cultured vegetables are cold. Please expect warm transit temps to possibly create expansive cultured veggies that are still delicious and beneficial to eat. All raw cultured vegetable orders will automatically be shipped with insulation which will minimize, but may not eliminate natural expansion. See our Shipping Information to learn more about raw cultured vegetables in transit.
INGREDIENTS: Cucumbers*, filtered water, health salt, garlic*, dill*, caraway seeds*. *Certified Organic

Benefits of Organic Dill, Caraway and Garlic Live Pickles
Raw pickles are nutritious & low-calorie; a great snack for any weight loss diet.
Dill is used as a digestive aid and has antibacterial properties.
Garlic is used to treat many ailments and has antibacterial properties.
Contains vitamin K, especially important for pregnant or breastfeeding women.
B vitamins help your body convert food into energy more efficiently.
Organic Dill, Caraway and Garlic Live Pickles promise

Raw
Organic
No vinegar
Dairy free
GMO free
Gluten free
Vegan
Peanut-free facility
Artisan
Ayurvedic
Freshness dated
All Rejuvenative foods are fresh and pure. Please enjoy within 8 months for best flavor.
http://www.webmd.com/vitamins-supplements/ingredientmono-300-GARLIC.aspx?activeIngredientId=300&activeIngredientName=GARLIC
http://www.livestrong.com/article/465179-what-are-the-benefits-of-eating-pickles/
http://www.livestrong.com/article/140378-health-benefits-dill-weed/