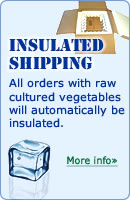 Organic Creamy Mild Green Salsa
Our Organic, Creamy Mild Green Salsa delivers outstanding nutrition, the benefits of cultured food, and a fantastic flavor that's easy to add to any dish. Our artisan method creates a smooth, creamy texture offering the best organic, raw, cultured foods on the market. To generate beneficial bacteria and active enzymes to support optimal digestive health, we culture fresh raw cabbage, tomatillos, peppers, and onions for up to seven days in stainless-steel containers.
The additional combination of cilantro, garlic, lemon juice, and health salt offers a delicious, tangy flavor and boosts the nutritional content and health benefits of our salsa, which include immune system support, antioxidants, and anti-inflammatory properties. Our unique recipe for Creamy Mild Green Salsa steers clear of too much heat but amps up the nutrition and flavor of any dish.
NOTE
For best results refrigerate upon receipt and open jar(s) only after these fresh, live, raw cultured vegetables are cold. Please expect warm transit temps to possibly create expansive cultured veggies that are still delicious and beneficial to eat. All raw cultured vegetable orders will automatically be shipped with insulation which will minimize, but may not eliminate natural expansion. See our Shipping Information to learn more about raw cultured vegetables in transit.
INGREDIENTS: Cabbage*, tomatillos*, peppers*, cilantro*, onion*, fresh-squeezed lemon juice*, health salt, garlic*. *Organic

Benefits of raw organic Creamy Mild Green Salsa
The potential benefits of our raw organic, Creamy Mild Green Salsa include:
Improved digestive function
Improved nutritional absorption
Antioxidants for a healthy heart and neutralizing free radicals
Anti-inflammatory properties
Vitamin C for immune system support
Our raw organic Creamy Mild Green Salsa Promise
Completely organic
Raw
Vegan
Gluten-free
Nut-free
GMO-free
Peanut-free facility
Artisan
Ayurvedic
Freshness-dated
This delicious, Raw, Organic Creamy Mild Green Salsa can be ordered above. Satisfaction is guaranteed on 7.5 oz only! All Rejuvenative Foods are fresh and pure. Please enjoy within 6 months for best flavor.
Sources:
http://www.webmd.com/heart-disease/guide/antioxidants-vitamin-e
http://www.cancer.gov/cancertopics/factsheet/prevention/antioxidants
http://www.nourishandflourishhealthyliving.com/blog/the-many-health-benefits-of-cultured-vegetables/