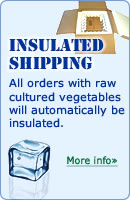 Organic Live Ketchup
We are pleased to offer healthful and 100% Raw Organic Live Ketchup. This Raw Organic Sugar-Free Ketchup is our delicious and nutritious version of the classic American condiment. In the making of our Organic Live Ketchup, we continue our commitment to bring you the world's best in raw, cultured foods. The vegetables we use are never cooked and culture for up to seven days in stainless steel containers to activate enzymes and beneficial bacteria, including lactobacilli.
A unique blend of raw tomatoes, cabbage, onions, beets, lemon juice, health salt, and spices gives organic live ketchup an exceptional, fresh flavor with no sugar added. Enjoy our tasty no-sugar ketchup and avoid the empty calories, high-fructose corn syrup, or processed sugars found in most brands. Rejuvenative Foods Organic Live Ketchup is sugar-free, low salt, and low calorie so you only consume a healthy dose of vitamins and minerals.
NOTE
Organic Live Ketchup should be eaten within one week after opening. For best results refrigerate upon reciept and open jar(s) only after these fresh, live, raw cultured vegetables are cold. Please expect warm transit temps to possibly create expansive cultured veggies that are still delicious and beneficial to eat. All raw cultured vegetable orders will automatically be shipped with insulation which will minimize, but may not eliminate natural expansion. See our
Shipping Information
to learn more about raw cultured vegetables in transit.
INGREDIENTS: Tomatoes*, cabbage*, beets*, onions*, lemon juice*, health salt, coriander*, red pepper*, cloves*. *Certified Organic
Nutrition Information Panel: click here

Benefits of Sugar-Free Organic Live Ketchup
Some potential benefits of our Organic Live Ketchup include:
Priobotics and enzymes to improve digestive health
Vitamin C for immune system support
Organic tomatoes with vitamins to support cardiovascular function, and boost bone health
Cancer-fighting properties
Raw beets with anti-inflammatory and antioxidant properties
A low calorie ketchup
A low salt ketchup
Unsweetened ketchup
Our Organic Live Ketchup Promise
Completely organic
Raw, ground at a low temperature
Vegan
Sugar-free
Gluten-free
Nut-free
GMO-free
Peanut-free facility
Artisan
Ayurvedic
Freshness-dated
All Rejuvenative Foods are fresh and pure. Please open within 6 months for best flavor and enjoy within one week after opening.
Sources:
http://www.webmd.com/food-recipes/features/red-foods-the-new-health-powerhouses
http://www.nourishandflourishhealthyliving.com/blog/the-many-health-benefits-of-cultured-vegetables/