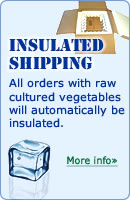 Hot Kraut Sauerkraut 15 oz
Looking for a kick with your raw organic sauerkraut? If so, our raw, organic Hot Kraut is for you! Hot Kraut offers all the best flavor and nutrients of traditional sauerkraut with the spice of hot peppers to get your endorphins flowing. Our raw sauerkraut is never heated or pasteurized like most competing brands, which preserves the highest nutritional value possible. Instead, we culture all of our kraut veggies in stainless steel containers for up to seven days so that this live superfood will arrive fresh and packed with a bounty of beneficial bacteria and active enzymes to help you feel great.
The main ingredient of our organic Hot Kraut is raw cabbage—a great source of Vitamin C to support immune function and protect against cancer. We also include the spicy hot peppers, radishes, garlic, and a dash of health salt to give raw Hot Kraut a terrific and distinctive flavor and nutrient combination you won't find anywhere else.
Raw garlic and radishes also add to the healthful properties and nutritional content, with garlic providing anti-inflammation and antioxidant powers, and radishes contributing fiber and additional Vitamin C.
Whether you use our organic Hot Kraut to serve as a side dish, spice up a sandwich, or give a kick to a traditional German meal, you can take a bite knowing you're enjoying a food that's just as healthful as it is flavorful.
NOTE
For best results refrigerate upon reciept and open jar(s) only after these fresh, live, raw cultured vegetables are cold. Please expect warm transit temps to possibly create expansive cultured veggies that are still delicious and beneficial to eat. All raw cultured vegetable orders will automatically be shipped with insulation which will minimize, but may not eliminate natural expansion. See our Shipping Information to learn more about raw cultured vegetables in transit.
INGREDIENTS: Cabbage*, radish*, garlic*, health salt, hot peppers*. *Organic
Nutrition Information Panel: click here

Benefits of raw organic Hot Kraut
Our organic Hot Kraut provides numerous potential health benefits, including:
Aids digestion
Increases nutrient absorption
Supports immune system function
Protects against cancer
Anti-inflammatory properties
Lowers risk of high blood pressure and heart disease
Our organic Hot Kraut promise
100% organic
Raw and cultured, not pasteurized
Vegan
Gluten-free
GMO-free
Artisan
Ayurvedic
Freshness-dated
This delicious, raw organic Hot Kraut is available in the refrigerated section of your local natural foods store or you can order it above. Satisfaction is
guaranteed or your money back
! All Rejuvenative Foods are fresh and pure. Please enjoy within 6 months for best flavor.