Organic Raw Fresh Live Cultured Golden Salsa Rejuvenative Foods Probiotic-Flora Enzyme-Fermented-Vegetables 100%-USDA-Certified-Organic Pure In-Glass-Antioxidant. To mix and match flavors,email mail@rejuvenative.com or leave message 831-291-4008
Shipping:
Calculated at checkout
---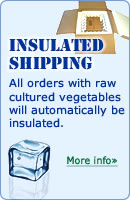 Organic Live Golden Salsa
The addition of carrots in this Raw Organic Salsa gives it a touch of sweetness, but it still packs a little kick for the spice lovers. We culture the vegetables to make it a "live cultured salsa" by multiplying naturally present lactobacilli (including acidophilus) and enzymes. Why is it important to eat foods with live probiotics and enzymes? They are the essential catalysts the body needs for processing the foods we eat. Processed and cooked foods are devoid of enzymes; they can only be found in raw and cultured foods. Increasing your consumption of these foods will lead to proper digestive health, a key to longevity and living a healthful life. This Organic Raw Salsa is also loaded with vitamins and minerals.
NOTE
For best results refrigerate upon reciept and open jar(s) only after these fresh, live, raw cultured vegetables are cold. Please expect warm transit temps to possibly create expansive cultured veggies that are still delicious and beneficial to eat. All raw cultured vegetable orders will automatically be shipped with insulation which will minimize, but may not eliminate natural expansion. See our Shipping Information to learn more about raw cultured vegetables in transit.
INGREDIENTS: Cabbage*, peppers*, onions*, carrots*, cilantro*, tomatillos*, high mineral health salt, fresh- squeezed pure lemon juice*, garlic*. *Certified Organic

Health Benefits of our Raw Cultured Live Golden Salsa
The organic lemons, cabbage, peppers and tomatillos all contain Vitamin C, which boosts the immune system, protects cells from free radical damage and increases iron absorption.

The carrots, peppers and cabbage all contain Vitamin A, which is essential for proper eye health and can help you fight off viral infections.

The manganese in the cabbage, carrots, garlic and onions helps your bones stay strong, regulates blood sugar levels and keeps your thyroid functioning.

The potassium in the tomatillos, peppers and cabbage maintains balance between your electrolytes and acid-base and keeps your muscles and nerves functioning properly.

The magnesium in the carrots and cabbage regulates blood circulation and builds strong bones.

Peanut-free facility

Machines cleaned between batches for purity

GMO-free

Gluten-free

Sugar-free

Trans fat free

Artisan

Ayurvedic
About our Raw Cultured Live Golden Salsa
Our Organic Raw Cultured Live Golden Salsa is of superior quality and has higher nutritional value than other salsas because we use healthy organic ingredients and a raw cultured process that increases the nutrional value. Satisfaction is guaranteed on our Live Golden Salsa on 7.5 oz only! All Rejuvenative Foods are fresh and pure. Please enjoy within 6 months for best flavor.
Sources:
(1) www.whfoods.com
---
Find Similar Rejuvenative Foods by Category
---