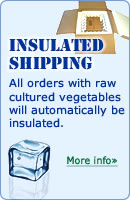 Fine Ground Sea Salted Sauerkraut
Ground to the texture of applesauce, this raw, organic Sea Salted Sauerkraut is an excellent source of probiotics. Traditional Cut Sea Salted Sauerkraut also available. Most sauerkraut available on the market is heated at a high temperature therefore destroying all the live probiotics and enzymes naturally present in fermented food. Even some brands that claim to be probiotic still use some type of heat process, but our raw cultured vegetables are never heated in any way. Our raw sauerkraut ensures you are consuming the highest amount of natural probiotics possible, which are essential for proper digestive health. Cabbage has been lauded for being an excellent cancer-fighter, antioxidant and anti-inflammatory making this organic raw sauerkraut a must in your refrigerator.
We start the process of creating our fine ground organic Sea Salted Sauerkraut by taking fresh, raw cabbage and allowing it to naturally culture in a stainless steel container for five to seven days. We do not add any water or vinegar in the process. The result is a delicious, nutritious raw sauerkraut perfectly salted with high mineral salt.
NOTE
For best results refrigerate upon reciept and open jar(s) only after these fresh, live, raw cultured vegetables are cold. Please expect warm transit temps to possibly create expansive cultured veggies that are still delicious and beneficial to eat. All raw cultured vegetable orders will automatically be shipped with insulation which will minimize, but may not eliminate natural expansion. See our Shipping Information to learn more about raw cultured vegetables in transit.
INGREDIENTS: Organic cabbage, high mineral health salt.
Nutrition Information Panel: click here

Benefits of raw sauerkraut
Never heated, preserving active enzymes
Full of live probiotics
Antioxidant
Low in fat
Easily digestible
Our raw cultured sauerkraut promise
Completely organic
Raw and cultured, not pasteurized or heated in any way
Vegan
Gluten-free
This delicious, oraganic Sea Salted Sauerkraut is available in the refrigerated section of your local natural foods store or you can order it above. All Rejuvenative Foods are fresh and pure. Please enjoy within 6 months for best flavor.